WARFARE D.C. - Reflection [Bootcamp Series #49]
$

12.99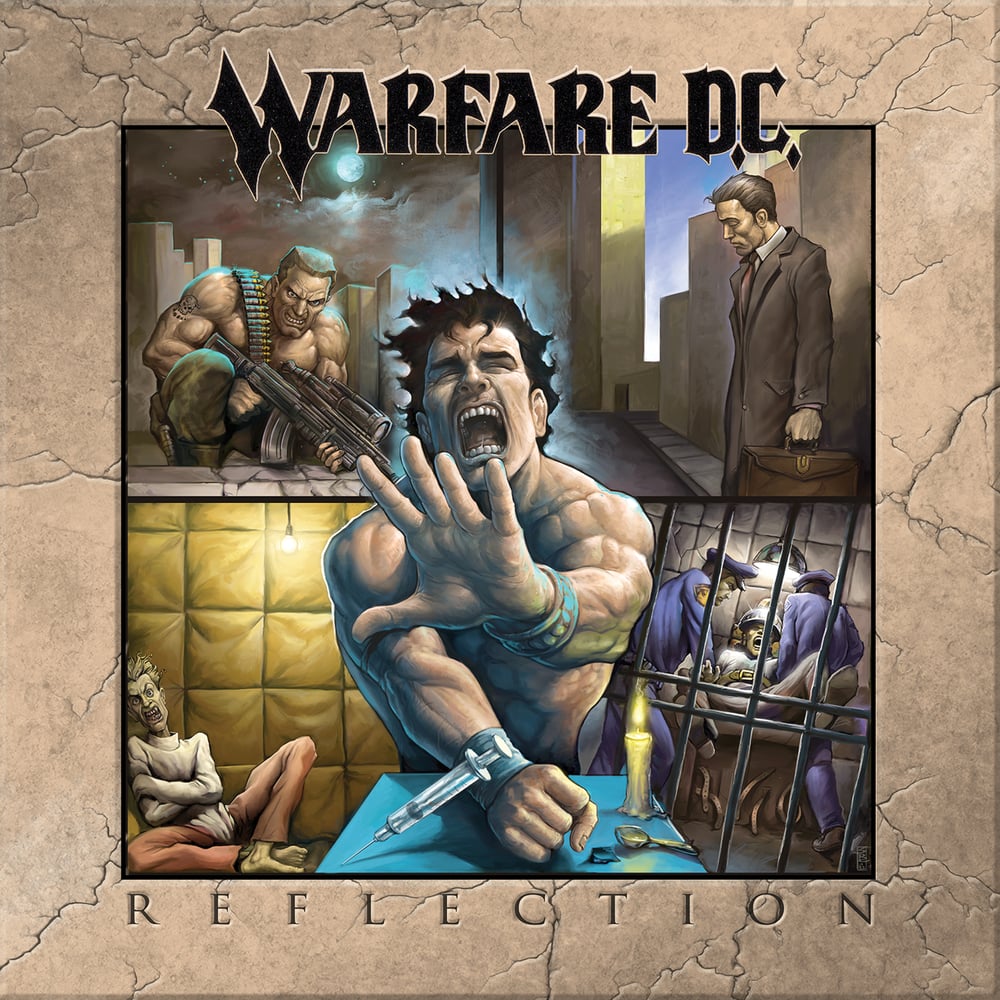 BOOTCAMP SERIES #49
DIVE234
CD
DECLASSIFIED INFORMATION:
WARFARE D.C. took shape during the late-'80s, formed from the remnants of little-known Daly City, CA metal unit Armament when drummer Will Carroll and guitarist Ted Aguilar joined forces with Ted's older brother, Rob, on bass. With the intention of moving in a more intense and thrash-centric direction, the trio quickly worked toward tracking a raw, two-song demo at the Machine Shop in San Francisco.
Having honed their crunchy, energetic brand of crossover-esque thrash with Rob and Ted splitting vocal duties, WARFARE D.C. hit Audio Voyage Studios later in 1990 for the four-song Lethal Injection demo. Produced by Sean Killian from Vio-lence with engineer Doug Mann—and utilizing some of Vio-lence's gear in the process—the new material was recorded and mixed in just two days. A far stronger example of the group's crisp, hard-hitting attack, Lethal Injection was more than enough to begin creating a local buzz throughout the Bay Area.
At that time, WARFARE D.C. was joined by second guitarist Chris Wise, formerly of Epitaph. Another four-song demo, Victims, was then recorded at Dreamland Productions in 1991, produced by Nick Felczer and Mike Wells (both from Wrekking Machine). Boasting more professional artwork as well as a concept behind the lyrical direction, Victims found the band's sound taking on a darker tone—in part inspired by groundbreaking works from acts like Sepultura and Suffocation—with more technical riffing and a more sinister and aggressive vocal approach.
Having been involved with such a legendary era of the Bay Area thrash scene, WARFARE D.C. was fortunate enough to have performed with the likes of Vio-lence, Forbidden, The Organization, Prong, Death, and many more. Despite nibbles from labels, however, the band never secured the opportunity to record an album. Frustrations and turmoil within the lineup brought things to a close by early-1993, though Ted and Will continued into the mid-'90s with Brood (and became bandmates again years later alongside their old friends in Death Angel).
30-plus years later, Divebomb Records is eager to present Reflection: a CD compiling WARFARE D.C.'s Lethal Injection and Victims demos, completely remixed and remastered, with the original '90s mixes as bonus tracks. This long overdue collection will be packaged with a 20-page booklet including photos, flyers, lyrics, and an extensive retrospective interview with the entire band. For the fans, by the fans!
COMRADES IN ARMS:
Death Angel, Epidemic, The Horde Of Torment, Vio-lence, Wrekking Machine, Sepultura
ARSENAL:
Limited edition CD – 500 units pressed worldwide – thick, 20 page booklet with archival photos and brand new interview – remixed/restored/remastered by Jamie King Audio
TRACK LIST:
Victims - Demo (2023 Mix)
1. Inner War
2. Everyday Nightmare
3. Dealing With The Agony
4. Last Act Of Faith
Lethal Injection - Demo (2023 Mix)
5. Trapped In A Circle
6. Some Things Never Change
7. Living Hell
8. Lethal Injection
Victims - Demo (1991)
9. Inner War
10. Everyday Nightmare
11. Dealing With The Agony
12. Last Act Of Faith
Lethal Injection - Demo (1990)
13. Trapped In A Circle
14. Some Things Never Change
15. Living Hell
16. Lethal Injection
INTERNATIONAL CUSTOMERS
LOOKING FOR CHEAPER SHIPPING OPTIONS?
TRY OUR INDIEMERCH STORE HERE