INFESTDEAD - Satanic Serenades 2xCD
$

6.66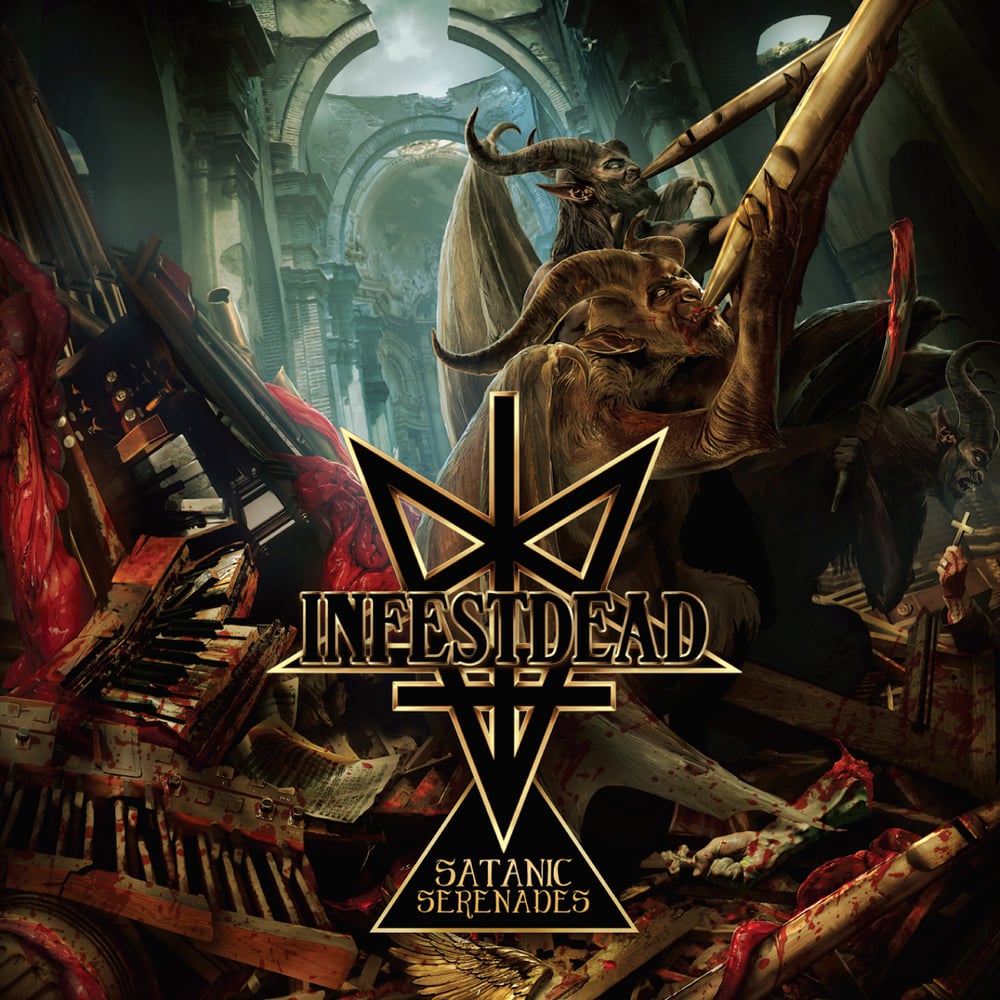 DIVE666
2xCD
OVERVIEW:
Legendary Swedish vocalist/multi-instrumentalist/producer Dan Swanö is perhaps best known for his work with EDGE OF SANITY, NIGHTINGALE, BLOODBATH, and recently WITHERSCAPE. Active since the early '90s, his career runs much deeper than this revered quartet, having produced seemingly countless bands from across the metal spectrum (OPETH, DISSECTION, KATATONIA, ASPHYX to name just a few) as well as launching or taking part in side projects including MOONTOWER, ODYSSEY, PAN.THY.MONIUM or INFESTDEAD.
The latter formed in 1993 and released two albums – Hellfuck (1997) and Jesusatan (1999) – plus EP/split releases. From the debut EP Killing Christ, vocalist Dread (TORMENTED, ex-MARDUK) and Dan had only one goal in mind: to create classic US inspired death metal like DEICIDE and MORBID ANGEL. The result was astonishing and in its remastered fashion sounds even more convincing and is blessed by Swanö's incredible songwriting talent. Even if it's just plain and violent death metal, Mr Swanö turns everything he touches into amazing music, be it prog or unholy extreme metal!
Satanic Serenades is an official 40+ track anthology release of the entire INFESTDEAD catalog that now shall haunt the holy again!
FOR FANS OF:
DEICIDE, MORBID ANGEL, VADER, BLOODBATH, EDGE OF SANITY
POINTS OF INTEREST:
• Satanic Serenades unites all recordings by this Swedish death metal act led by Dan Swanö (WITHERSCAPE, ex-EDGE OF SANITY, ex-BLOODBATH)
• Includes the long deleted late 90's albums expanded with EP and demo material
• Remastered by Dan Swanö and featuring liner notes, all lyrics and updated artwork by Hjules (DESTRUCTION, ANNIHILATOR)
• Receiving positive press the world over
• Limited edition of 1000 units
• All material has been out of print and fetching high dollar collector prices
• Licensed from Century Media Records
TRACK LIST:
Disc 1
1. Re-Resurrection
2. Christinsanity
3. Born To Burn
4. JesuSatan
5. Undead Screaming Sins
6. The Burning Of The Son
7. Sinister
8. Evil²
9. Antichristian Song #37
10. Black Night [Deep Purple cover]
11. Burn Me (Without The Grace Of God)
12. Dead Earth
Tracks 1-10: "JesuSatan" album (1999)
Tracks 11-12: "Demo 1993"
Disc 2
1. Rebirth
2. The Desecration Of Christ
3. Infest The Dead
4. The New Empire
5. Mercenary, Merciless
6. Born. Nailed.
7. The Plot To Kill Jesus
8. Blaspheme The Abbess
9. Polterchrist
10. Sacrifice The Saviour
11. Hellfuck
12. Darkness Complete
13. Haunting The Holy
14. Heaven Denied
15. Salvation Incomplete
16. Bewitch The Virgin
17. Angeldemon
18. World Inverted
19. Son Of The Darkside
20. Hellborn
21. Satanic
22. Amen
23. Bestial Genocide
24. The Rising
25. I'll Be Black
26. In The Spell Of Satan
27. Save Me From The Hands Of Christ
28. Fucked By Satan
29. Burn Me (Without The Grace Of God) 1994 remix
Tracks 1-23: "Hellfuck" album (1997)
Tracks 24-29: "Killing Christ" MCD (1996)