BETRAYEL - Offerings
$

6.66
On sale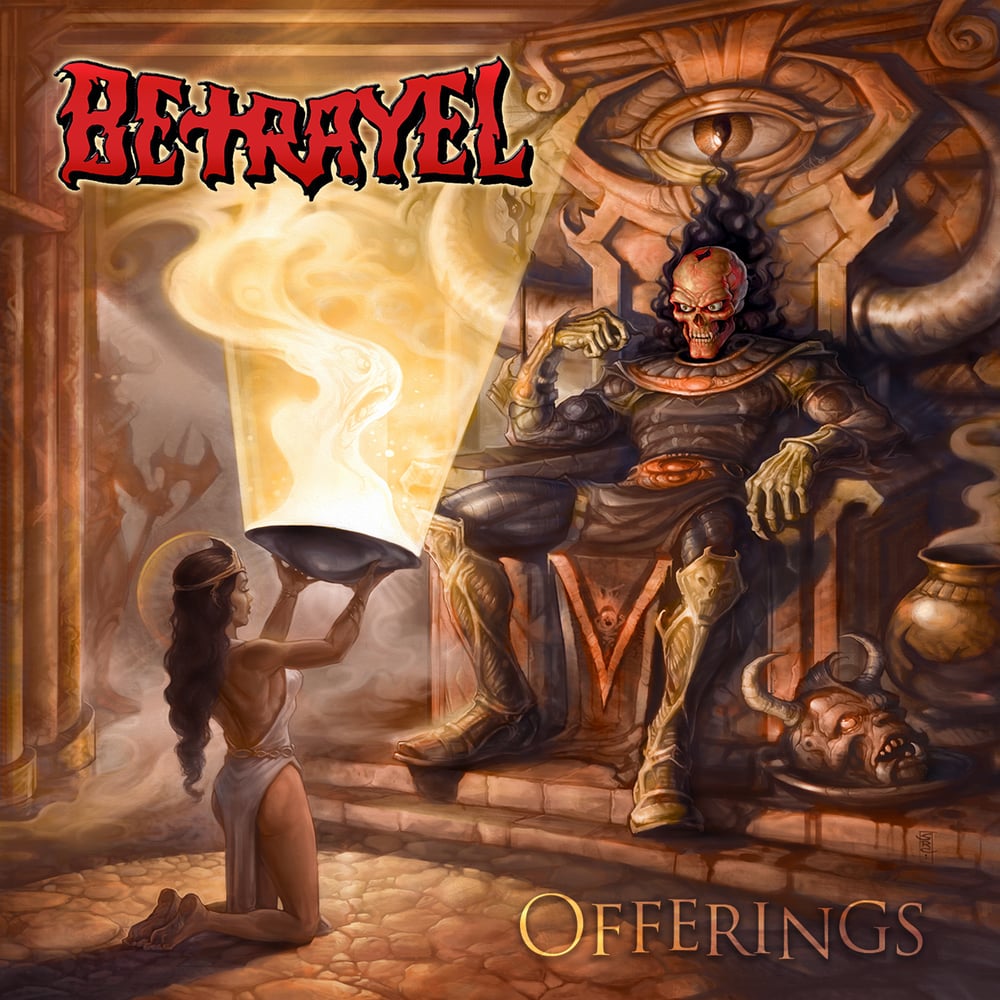 DIVE208
CD
OVERVIEW:
Fresno, CA's BETRAYEL formed in 1985, influenced by the burgeoning sounds of Metallica, Exodus, and Slayer. The quartet quickly announced their primal thrash metal fury by opening their debut demo—1986's Helpless Souls—with a bold mission statement: "Attention posers: prepare to die!" A second demo, Death Shall Overcome, soon followed; as did appearances on classic compilations such as Godly Records' Raging Death and Metal Blade's Metal Massacre Ten—the band respectfully maintaining their singular focus on intense, raging thrash all the while.
BETRAYEL's complete discography surfaced through Divebomb Records as a 20-song CD back in 2018. Then, something interesting happened: renewed enthusiasm for the material found all four original members—Chris Campise on bass/vocals, guitarists James Carter and James Johnson, and Arlie Patton on drums—reuniting to work on new music for the first time in over three decades! The group notes, "We decided to get together and write some new songs, and we are proud of the results. We rehearsed for three months and the next thing we knew we were at American Made Studios recording with Marc Kapetan, who did a great job capturing the energy and spirit of the band. He worked us pretty hard, but after 32 years we needed the push. We ended up with seven new songs and two tracks from 1989, which were the last two songs BETRAYEL ever wrote. And, of course, we had to redo the classic 'Helpless Souls' from 1986."
Recording took place from February to April of 2020, coincidentally in the same building that formerly housed A.I.R. Studios, where BETRAYEL laid down their very first recordings in 1986. The resulting 10-song, 33-minute album—Offerings—truly harnesses the power and crunch of that legendary '80s thrash essence, about which the members state, "Once we got together and started jamming, it just felt right. We've always had that something special, and the songs just kind of rolled out and were great from the start. For some reason, this combination of personalities just works—all the different influences and styles make for an interesting stew of molten metal. We really didn't even think about anything except making sure we had strong material, so our fans that are still with us wouldn't feel cheated or disappointed. We captured lightning in a bottle with these songs, and can't wait to unleash this album onto the masses!"
Offerings is due for release on Friday the 13th of November, 2020—once more through Divebomb Records. As parting words, BETRAYEL puts forth, "It's amazing to us that anyone even gives a shit about our demos from 1986/1987. Just the fact that anyone even remembers totally blows us away, so it is our pleasure to put this new album out. Hopefully we can get out there and do some touring so we can meet all your beautiful faces. Long live metal!"
TRACK LIST:
1. Accelerant
2. Above And Beyond
3. Venomous
4. Offerings
5. My Demise
6. Meet Your Maker
7. Resurrected
8. Face Of Pain
9. The Edge
10. Helpless Souls