IRONFLAME - Lightning Strikes The Crown
$

9.99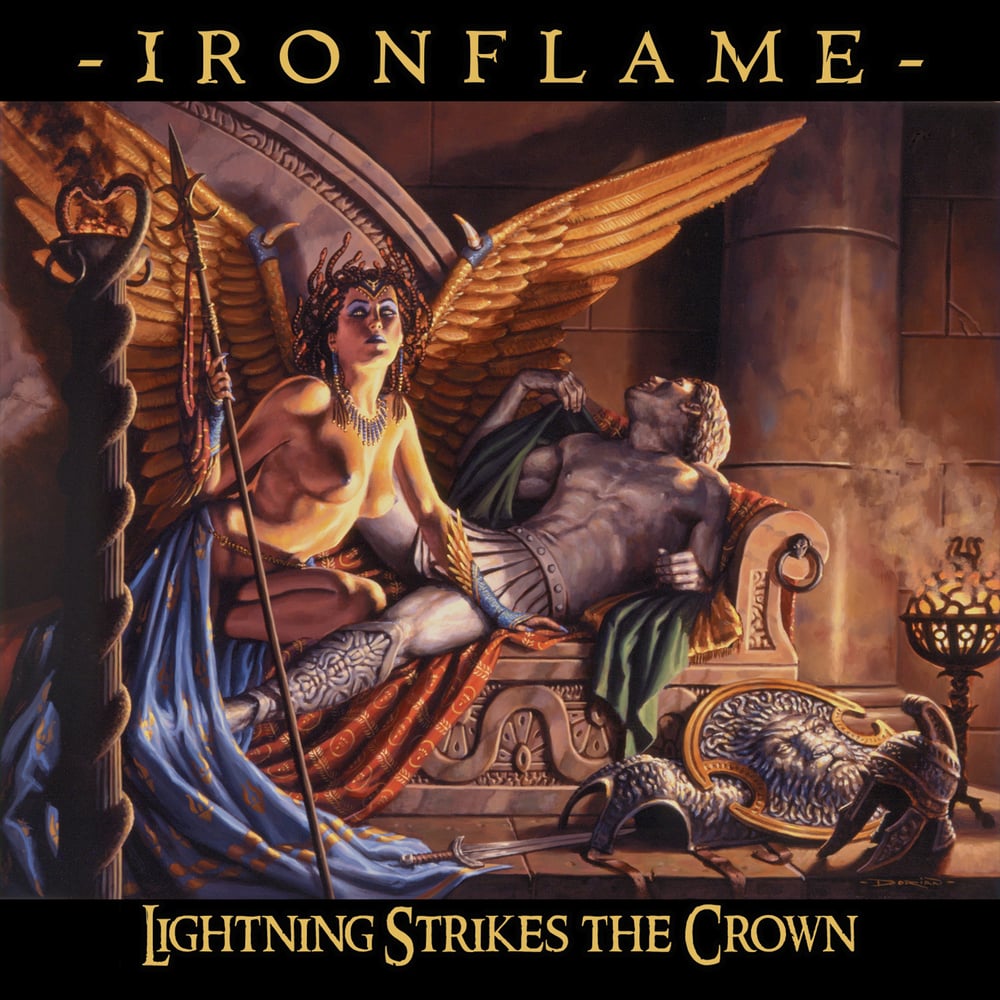 DIVE150
CD
OVERVIEW:
IRONFLAME is a traditional heavy/power metal entity born of multi-instrumentalist Andrew D'Cagna. Although the music of IRONFLAME finally came to life in late-2016, its growth into fruition had been decades in the making. Andrew grew up in the late-'80s/early-'90s listening to classic metal acts like Iron Maiden, Savatage, Helloween, and Judas Priest. He was also lucky enough to have been blessed with a singing voice that lent itself well to the genre. Despite Andrew's given ability, however, he rarely used it—instead becoming influenced by more extreme realms of metal and pursuing such musical interests for 15 years, playing various instruments in death and black metal bands.
Andrew was then recruited by renowned guitarist Jim Dofka as vocalist for the band Dofka, where he honed his raw vocal talent and learned how to sing properly through 2010, performing on the Humanity Bleak album. Years later, upon the untimely death of a mutual friend, Dofka reunited for a one-night performance in October of 2016. These events stirred up many old feelings, and Andrew felt it was time to write an album of purely traditional metal.
Thus, IRONFLAME was born.
The end result is Lightning Strikes the Crown: a 40-minute tribute to the glory days of heavy metal. Free of pretension and arrogance, the music of IRONFLAME is catchy, familiar, and hook-laden—just good old fist-banging metal that is as honest as it is memorable. All of the instruments and vocals were performed/recorded by Andrew himself, with the exception of a handful of local guitar buddies recruited for solos—Jim Dofka among them.
FOR FANS OF:
IRON MAIDEN, HOLY GRAIL, NIGHT DEMON, HIGH SPIRITS & AMBUSH
TRACK LIST:
1. Firestorm
2. Marching On
3. The Gorgon
4. Heavy Metal Warriors
5. Eternal Night
6. Fallen Glory
7. What We've Sown
8. Shadow Queen
CD Bonus Tracks
9. Kingdom Come
10. Fighting Onward