V/A (SATAN'S HALLOW - ARIETE - TERRIFIER - TIGER FIGHT) - Masters Of Metal: Volume 5
$

4.99
Out Of Stock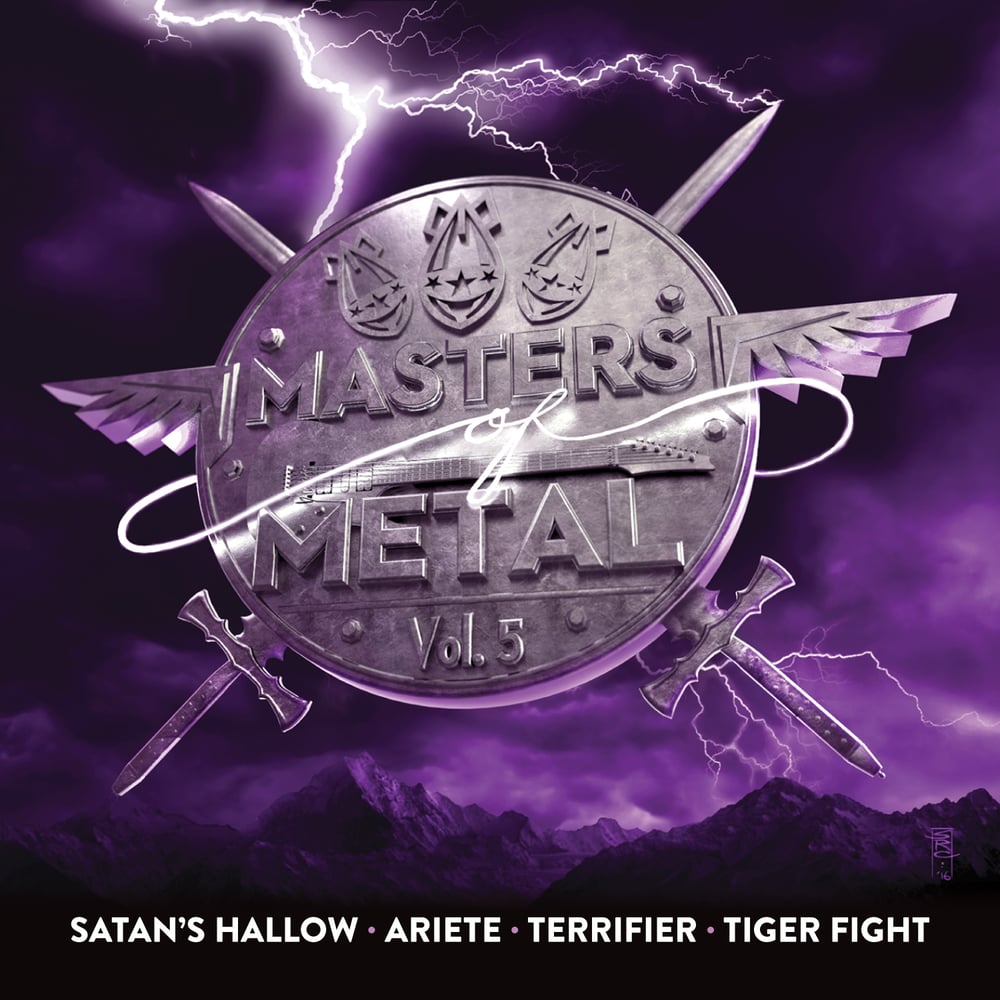 DIVE142
CD
OVERVIEW:
Launched in late-2016, Divebomb Records' Masters of Metal series was devised as a new twist on that bygone era when top-shelf metal compilations were in high demand—Metal Blade's longstanding Metal Massacre, New Renaissance's Speed Metal Hell, Roadrunner with Stars on Thrash, or Under One Flag's Speed Kills—all of which provided a great avenue of exposure for both established and up-and-coming artists alike. Rather than highlighting single tracks, however, Divebomb Records compiles complete demos onto these CD-only collections.
Volume 5 delivers the killer songwriting chops of melodic trad metallers SATAN'S HALLOW (Chicago, IL), from their self-titled 7" single; ARIETE's (Madrid, SPA) enthusiastically energetic, riff-heavy power metal EP, Asedio; relentless, no-nonsense, death-inflected thrash from up-and-comers TERRIFIER (Vancouver, BC)—formerly known as Skull Hammer—and their Metal or Death EP; and TIGER FIGHT's (Chicago, IL) NWOBHM-leaning penchant for vocal harmonies and dual-guitar licks via their three-song Tigers Fight at Midnight cassette. Of further note, Chicagoans SATAN'S HALLOW and TIGER FIGHT each share members with Moros Nyx, as well as one another.
The 20-page, full-color booklet is emblazoned with unique emblem artwork by Steven Cobb; and despite being a compilation series, every band is fully represented within—displaying the original cover art for each release, as well as lyrics, photographs, etc. Masters of Metal provides yet another means for Divebomb Records to focus their passion for quality in order to champion current metal acts that are out there raging today... as always: for the fans, by the fans!
TRACK LIST:
SATAN'S HALLOW
1. The Horror
2. Satan's Hallow
ARIETE
3. Hijos de Bhaal
4. Fantasmas del Ayer
5. Siervo de Satán
6. Mensajeros de Libertad
7. Máxima Velocidad
8. Children of Bhaal
TERRIFIER
9. Metal Or Death
10. Infernal Overdrive
11. Wretched Damnation
TIGERS FIGHT
12. Coming Home
13. Scream
14. Tiger Fight