TYRRANICIDE - God Save The Scene (Deluxe Edition) 2xCD
$

9.99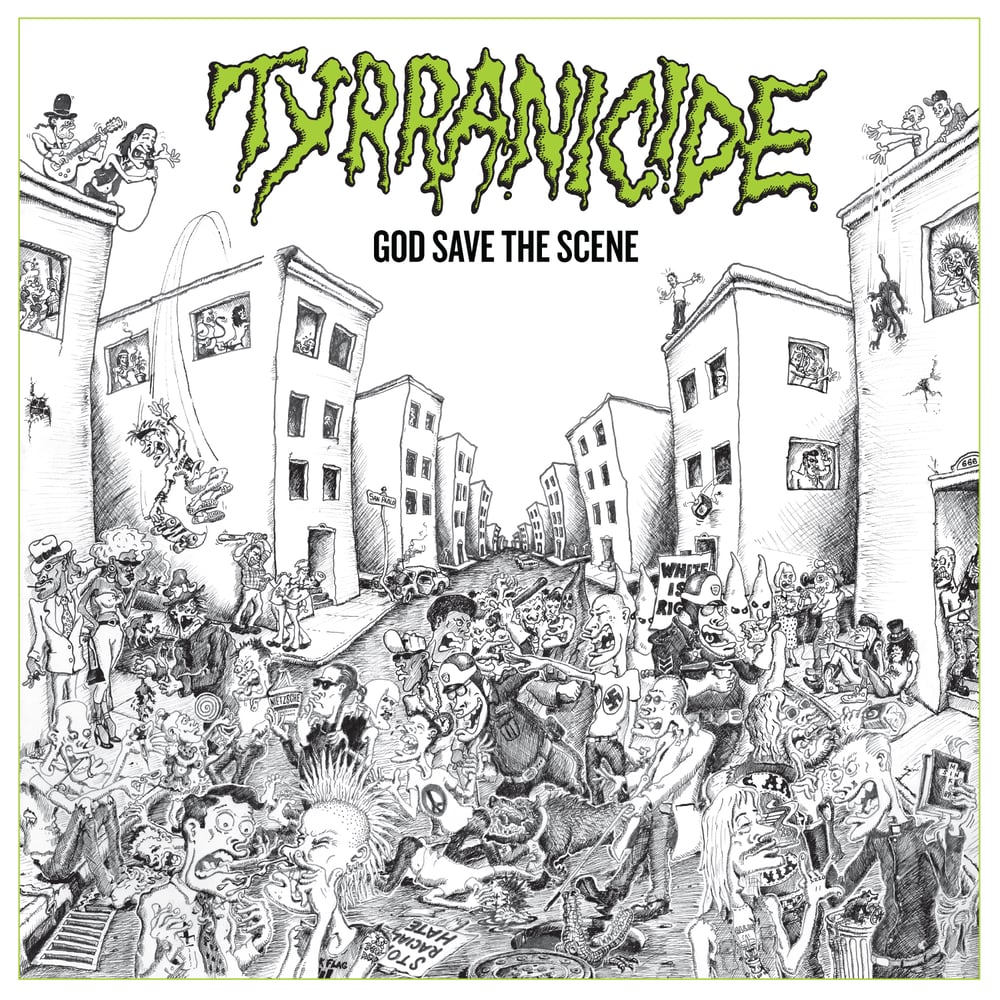 SPECIAL OFFER
Limited edition (100) cover art magnet with purchase. While supplies last.
DIVE160
2xCD
OVERVIEW:
TYRRANICIDE originally formed on Halloween of 1984 in Pleasanton, CA under the name of Mayhem. The group eventually solidified its lineup of guitarists/vocalists Jeff Hill and Tim Narducci, drummer Mike Serafin, and Ty Turner on bass before being rechristened TYRRANICIDE prior to recording their first demo in 1986. Existing on the fringe of the fabled Bay Area thrash scene's heyday, TYRRANICIDE rubbed elbows with everyone from future legends such as METALLICA and EXODUS, to second-wave favorites like SACRILEGE B.C. and ATTITUDE ADJUSTMENT. The band was initially adamant, however, that their thrashing attack not be pigeonholed as simply "speedcore" or "crossover," desiring instead for their inclusive attitude to welcome a range of different fans.
After securing an appearance on the Metal Blade/Death Records Complete Death II compilation LP in 1987 alongside contemporaries from IMPULSE MANSLAUGHTER to ANGKOR WAT, TYRRANICIDE hit the studio in October of 1988 to track their lone full-length LP, God Save the Scene. Recorded for a mere $800 and self-released through Hill's own Whirling Dervish Records, the album would go on to become an influential force in the local scene with regard to the D.I.Y. ethic—and a cult classic, no less.
In the years that followed—with new bassist Sean Kinnick in tow—TYRRANICIDE's final recording sessions were originally intended to comprise a second full-length. In the end, however, the darker and harder-hitting material yielded a pair of EP releases in 1992: a two-song 7" on French label Bad Card Records; and two more songs on a split 8" flexi with Liquid Courage. TYRRANICIDE would ultimately endure a few more lineup changes before finally throwing in the towel before the end of 1993.
But now, nearly 25 years later, Divebomb Records is excited to announce this definitive double-CD reissue of God Save the Scene. The 27-song collection includes the full-length album itself, "Don't Label Me" from Complete Death II, 1986's Hiding Under White demo, plus the complete sessions from what would have been TYRRANICIDE's sophomore full-length—four songs of which have never before been released! Fully remastered by Jamie King at The Basement Recording, the set is rounded out by an extensive 24-page booklet loaded with photos, flyers, press clippings, and a retrospective interview with the band. For the fans, by the fans!
FOR FANS OF:
THE ACCUSED, DR. KNOW, NO MERCY & CRYPTIC SLAUGHTER
TRACK LIST:
CD1
1. Hiding Under White
2. Nails On The Chalkboard
3. Was It Worth It?
4. Think For Yourself
5. One That I Am
6. Facing Reality
7. Denial (Of Hate)
8. Drink, Drive And Die
9. Peer Pressure
10. Pull The Plug
11. Inner Peace
12. Holy War
13. By His Own Hand
Complete Death II (LP – 1987)
14. Don't Label Me
CD2
Hard Like A Machine (LP Sessions – 1992)
1. Hard Like A Machine
2. His And Hearse
3. University Of Life
4. Inertia
5. Bite Your Tongue
6. Fool's Gold
7. Kill The Messenger
8. No More Gore
Hiding Under White (Demo – 1986)
9. Hiding Under White
10. Summoned To Die
11. Facing Reality
12. Epilogue
13. Cripple's Revenge