GROSS REALITY - Return To Ruin
$

12.99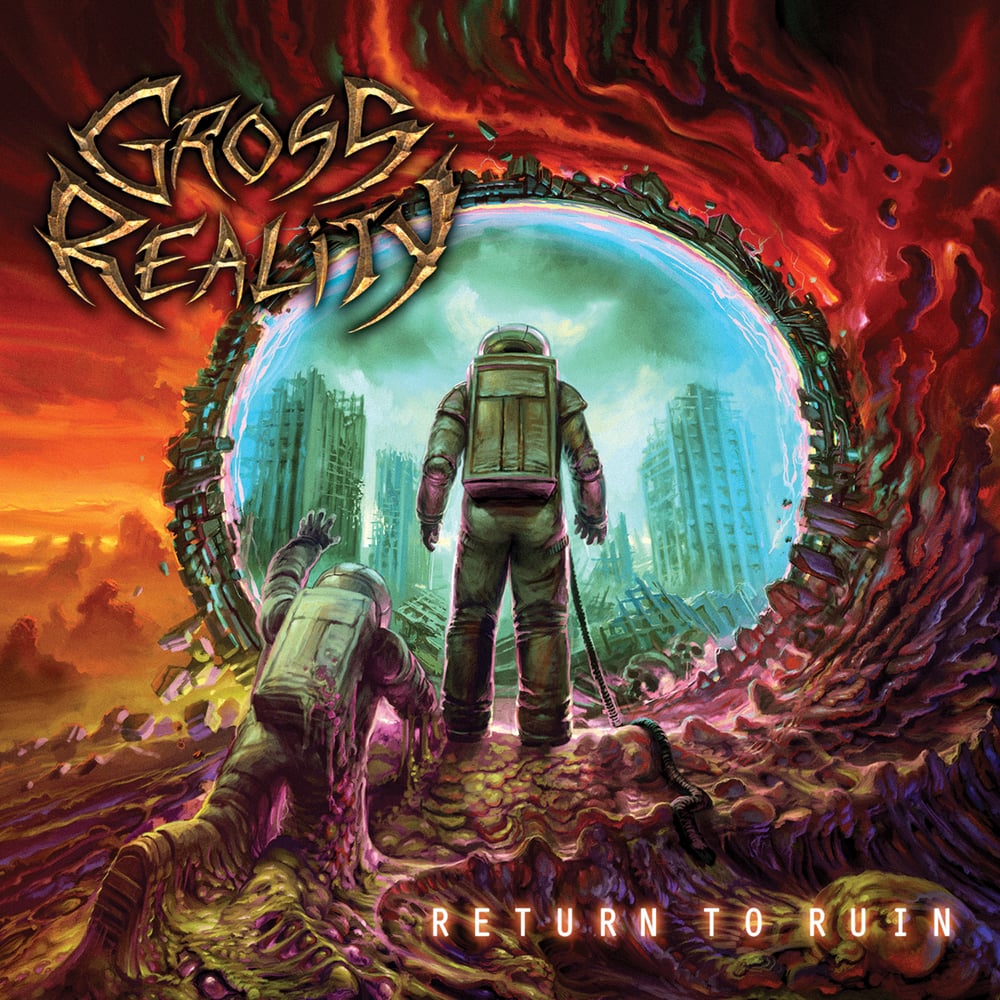 DIVE235
CD
Reformed in 2009 after an initial early-'90s run that surprisingly yielded no recorded output (but saw the group sharing the stage with everyone from Bolt Thrower and Cannibal Corpse to Confessor and Type O Negative), Raleigh, NC thrash unit GROSS REALITY has returned once more with the long-awaited follow-up to 2017's Escaping Gravity. After spending the pandemic in a rehearsal studio, Return to Ruin promises to be the most aggressive and technical album of GROSS REALITY's catalog.
Produced, mixed, and mastered by Jamie King Audio, the nine-song, 46-minute Return to Ruin finds the original trio of Daniel Powell (bass/vocals), Roland Arthur (guitars), and Jason Wheeler (drums) joined by new guitarist Dylan Glotzer to explore the continuing saga of two psychonaut travelers stretching through mind-bending dimensions. In search of a path home, they arrive upon a portal in time that leads them back to an Earth in ruins. With themes ranging from a nuclear war that has devastated the planet, to souls confined in continuous loops of human existence, the pair struggles to perceive if this desolation is true reality... or simply another psychonautic illusion?
Slated for release later this September through Divebomb Records, Return to Ruin is just the latest addition to an impressive GROSS REALITY discography that displays a tendency toward taut, high-energy riffing with undercurrents of melody and subtle, progressive technicality that never abandons the importance of well-crafted songs. Thus, the album will effortlessly appeal to generations of fans of both classic and contemporary thrash metal alike. Divebomb founder Matthew Rudzinski states, "GROSS REALITY have—yet again—delivered an out-of-this-world epic. Three albums in and they're still able to create supremely catchy material without losing sight of what makes thrash metal great: THE RIFFS!"
FOR FANS OF:
STRAPPING YOUNG LAD, HAVOK, EXMORTUS, POWERMAD, EVILE, REVOCATION, OCEAN MACHINE
TRACK LIST:
1. Carbon Shadows
2. Soul Substance
3. Prison Planet
4. Mind At Large
5. Time Portals
6. Nightmare Hall
7. Dark The Sun
8. Return To Ruin
9. Solitary Hypnosis


INTERNATIONAL CUSTOMERS
LOOKING FOR CHEAPER SHIPPING OPTIONS?
TRY OUR INDIEMERCH STORE HERE