DIRE PERIL - The Extraterrestrial Compendium
$

4.99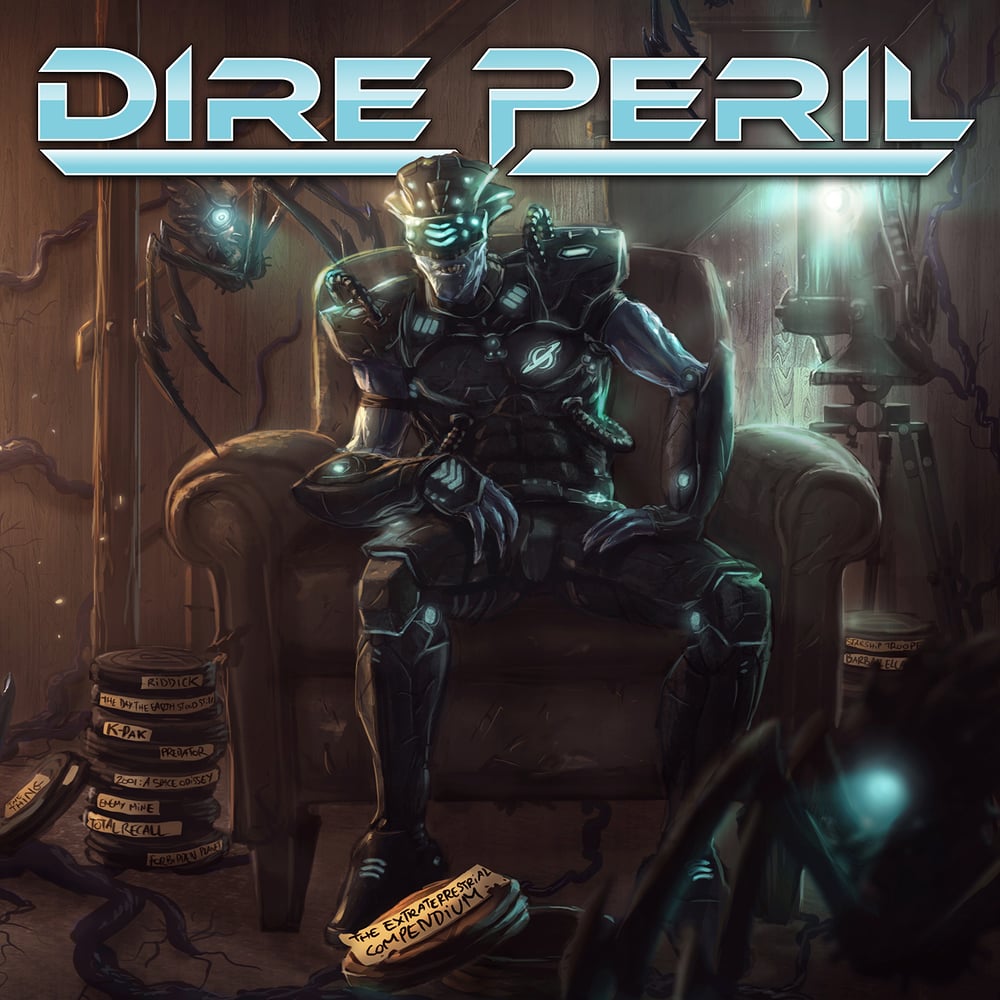 DIVE171
CD
OVERVIEW:
Consisting of Jason Ashcraft (guitars) from Helion Prime and John Yelland (vocals) from Judicator, DIRE PERIL is finally set to issue their long-overdue full-length debut, The Extraterrestrial Compendium, through Divebomb Records.
Each of The Extraterrestrial Compendium's 12 tracks is based on a sci-fi film. "I always loved the idea behind Iced Earth's Horror Show—making each song based on a famous monster film. If it isn't obvious from the music, I'm somewhat of an Iced Earth fan," Jason states, "so when coming up with ideas for this debut, I thought it would be cool to take a similar direction, but with something that I'm passionate about. As you can see by the final result, we get an album based on some of my all-time favorite sci-fi films. It was certainly hard to choose, as I could probably make DIRE PERIL's entire career on favorite films alone."
The album features guest performances by Brittney Slayes (Unleash the Archers)—reprising her role as Barbarella for a re-recorded version of "Queen of the Galaxy"—and the mighty Arjen Anthony Luccassen (Ayreon, Star One, The Gentle Storm), who lends his voice and guitar skills to album-closer "Journey Beyond the Stars." Ashcraft comments, "I have been biting my tongue, mostly, for about three years now that we got Arjen to perform on one of our tracks. Those who know me understand that this is a dream come true for me. Arjen is a huge inspiration to myself and my music, and to have had the honor to work with him is something that will be a main highlight throughout my career. He is very humble and great to work with. I hope everyone is as pleased with the outcome as I am."
Through many obstacles, DIRE PERIL is excited to present The Extraterrestrial Compendium to the heavy metal community at large. Notes Yelland, "Working on this album was a joy. I had always admired Jason's material, so the opportunity to collaborate with him was irresistible. I am so proud of what we have accomplished, and can't wait to share this—and more—with the world..."
FOR FANS OF:
ICED EARTH, BLIND GUARDIAN, HELION PRIME, JUDICATOR and PERSUADER
TRACK LIST:
1. Yautja (Hunter Culture)
2. Planet Preservation
3. Enemy Mine
4. The Visitor
5. Total Recall
6. Queen Of The Galaxy
7. Roughnecks
8. Blood In The Ice
9. Heart Of The Furyan
10. Altair IV: The Forbidden Planet
11. Always Right Here
12. Journey Beyond The Stars