ANTAGONIST - Damned and Cursed...To Life On Earth
$

9.99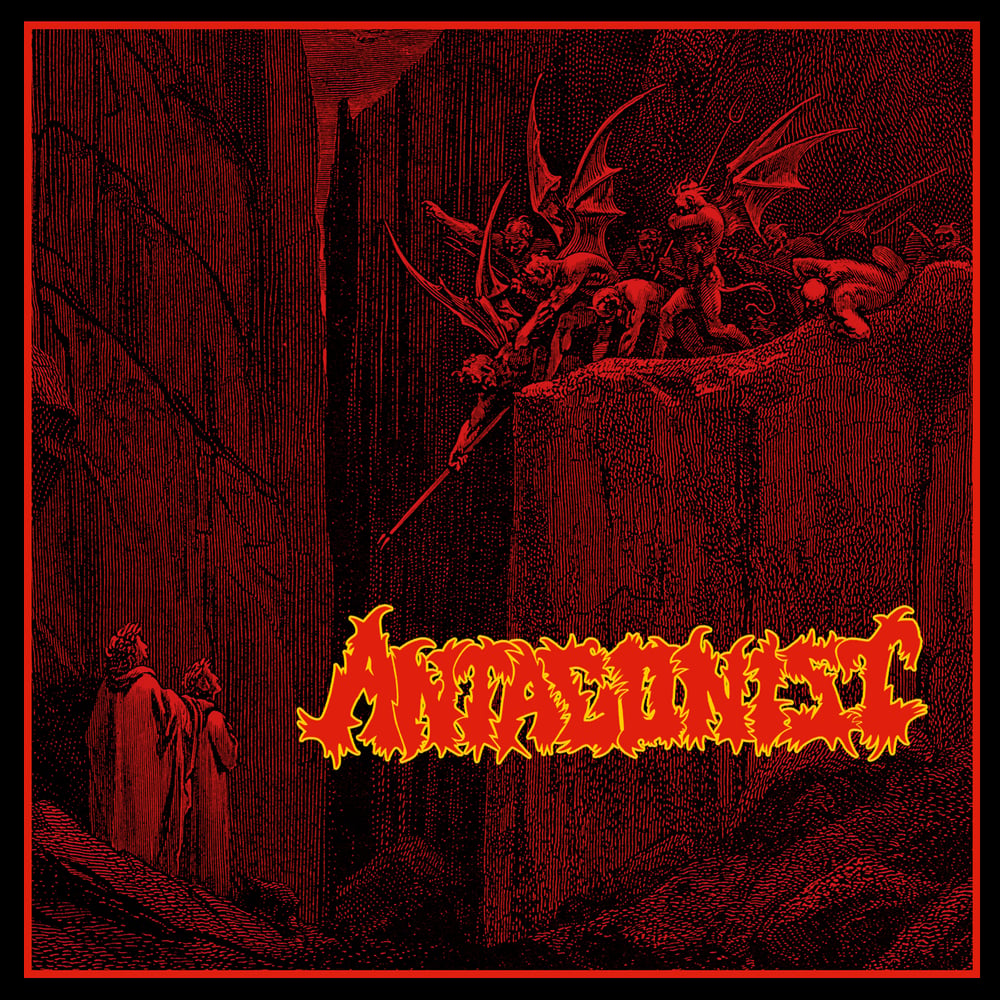 DIVE126
CD
OVERVIEW:
When your music is described as "more intense than a pitbull on crack," you know you're doing something right. Although Green Bay's legendary ANTAGONIST has not performed in over 20 years, their diabolical, full-throttle assault continues to gain popularity with Heavy Metal fans worldwide. For many years, a single used copy of their much sought-after six track EP has routinely sold for over $100, and in this age of downloading, that's no small sign of respect or credibility.
Suspiciously little is known about ANTAGONIST. Since their disappearance in the mid-'90s, there have been no signs of life nor any internet presence. It would seem as though ANTAGONIST always knew to leave the world wanting more. Some people claim they still gig on the weekends... in Hell.
ANTAGONIST formed in 1993 as a direct consequence against their weaker, trend-driven surroundings. When the band entered Simple Studio in October 1993 to record their debut (and only) release, no one would have foreseen the impact it would have for years to come. Expertly produced and engineered by the band's lead architect, Todd Tousey, and digital wizard, Eric James, the material is more relevant to the Metal scene of 2016 than it was upon its release in January 1994. Walking a perfect line between melodic Death Metal and chaotic Thrash, the material infuses hectic speeds with interesting melodies and a tactful sense of musical muscle—dark and aggressive, yet loaded with energy. Combining elements of Traditional Metal with the intensity of Extreme Metal, the band has referred to their music as "Heavy Black Thrash."
Now, more than two decades later, Divebomb Records is proud to bring new life to ANTAGONIST's scorching debut with Damned And Cursed... To Life On Earth; including lyrics, archival photographs, an all-new retrospective band interview, plus a full live set recorded in 1993—all fully remastered by Jamie King at The Basement Studios. Or, to be more accurate, in the words of ANTAGONIST's Todd Tousey himself, "This is neither a reissue nor remaster, as it was never mastered the first time. This is the first official release actually; it only took Divebomb Records 22 years to make it happen." We're just glad that he hasn't cut his hair in the meantime!
FOR FANS OF:
KREATOR, SLAYER, DESTRUCTION, ENFORCER, MERCYFUL FATE
TRACK LIST:
1. Black Sands Of Time
2. Dead Priest
3. Lies After Death
4. Good Day To Die
5. Live In Fear
6. Cracking Skulls
BONUS TRACKS
7. Dead Priest (Live)
8. Mad As Hell (Live)
9. Lies After Death (Live)
10. Good Day To Die (Live)
11. Live In Fear (Live)
12. Hell Awaits (Live)
13. Balls To The Wall (Live)
14. Leather Rebel (Live at Soundcheck)
15. Black Sands Of Time (Demo)
16. Dead Priest (Demo)