ADDICTIVE - Kick 'Em Hard (Rebooted Edition) 2xCD
$

9.99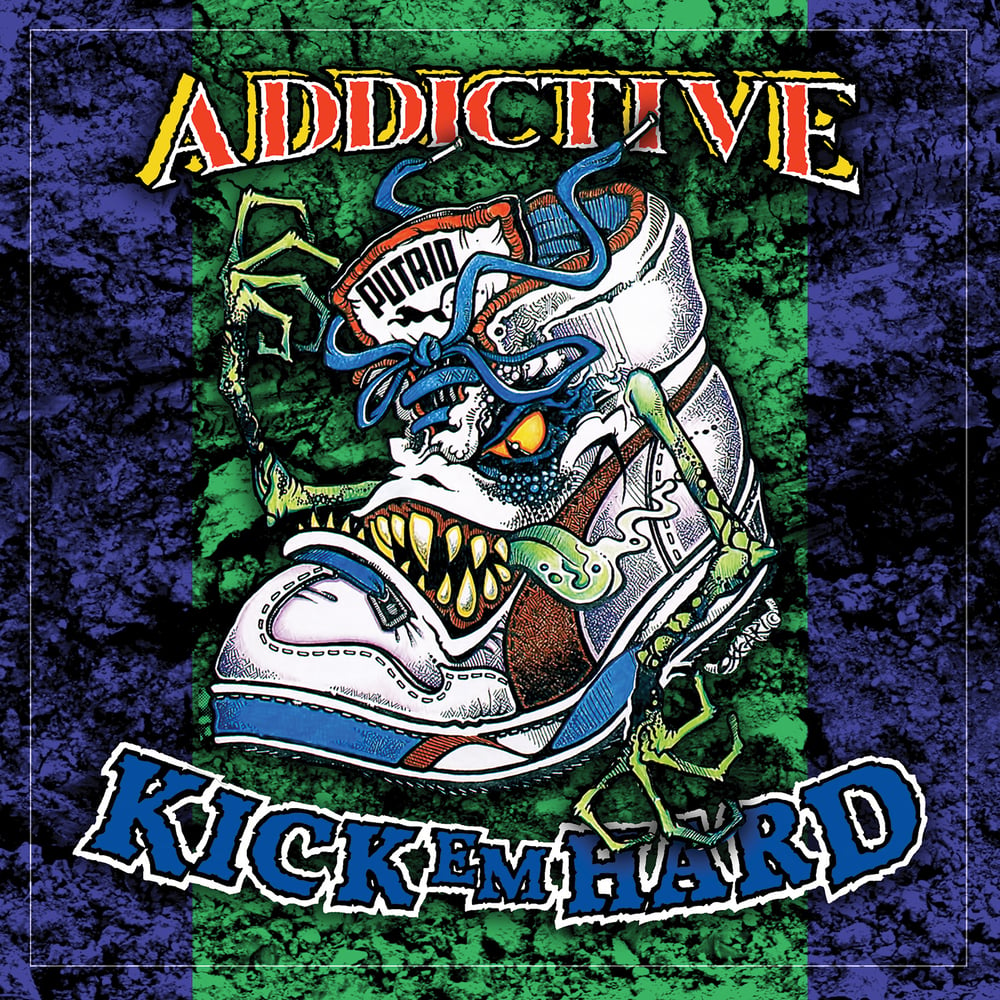 DIVE058
2xCD
OVERVIEW:
Few bands survived the rapid decline of thrash metal in the early 90's, but not only did Australia's ADDICTIVE soldier on, they released a superb slab of classic speed metal against all odds. Following up their raw, yet impressive 1989 debut album, Pity Of Man, the band enlisted Ozzy Osbourne/Rainbow bassist, Bob Daisley, to produce what would become their finest moment.
Rumors originally claim misplaced master tapes are the culprit behind the delayed Kick 'Em Hard 1993 release. No matter the cause ADDICTIVE tried to overcome those delays and had unquestionably upped the ante with Kick 'Em Hard, revealing a band whose ravenous desire to succeed overshadowed the industry's climate predicting disaster for themselves and their thrash metal brethren. Combining all the best elements of early Metallica, Kreator and Megadeth, ADDICTIVE were a band surely on the rise delivering a crushing sophomore album, but the shifting tides of the music industry unfortunately left them drifting aimlessly by the mid-90s.
These two classic albums have been out of print for nearly 20 years and fetching high dollar collector prices online, but ADDICTIVE has remained a cult favorite with die-hard thrash fans. Kick 'Em Hard (Rebooted Edition) contains brand new mastering of the band's entire discography, interview and a redesigned, full color booklet with archival photos of the band's history. For the fans, by the fans.
FOR FANS OF:
METALLICA, MEGADETH, MORTAL SIN, SODOM, KREATOR and TESTAMENT
TRACK LIST:
CD 1
KICK 'EM HARD (1993)
1. Distemper
2. Waiting For Yesterday
3. Kick 'Em Hard
4. You're Perfect
5. Towards Extinction
6. Wacked
7. You Never Know
8. Man Made Act Of God
9. Serves You Right
10. Bitch
BONUS TRACKS
11. Crazy Train
12. Sniper (Demo)
13. Look Before You Leap (Demo)
CD 2
PITY OF MAN (1989)
1. Get Out Of My Life
2. Come Before The Storm
3. Boiling Point
4. Sonder Kommando
5. The Forge
6. What Ward RU In?
7. Echoes of the Mind
8. Addictive Friend
9. My Foe
10. Pity Of Man
BONUS TRACKS
Ward 74 (Demo Tape) - 1988
11. Addictive Friend
12. Sonder Commando
13. What Ward Are You In?
14. Pity Of Man
15. Come Before The Storm