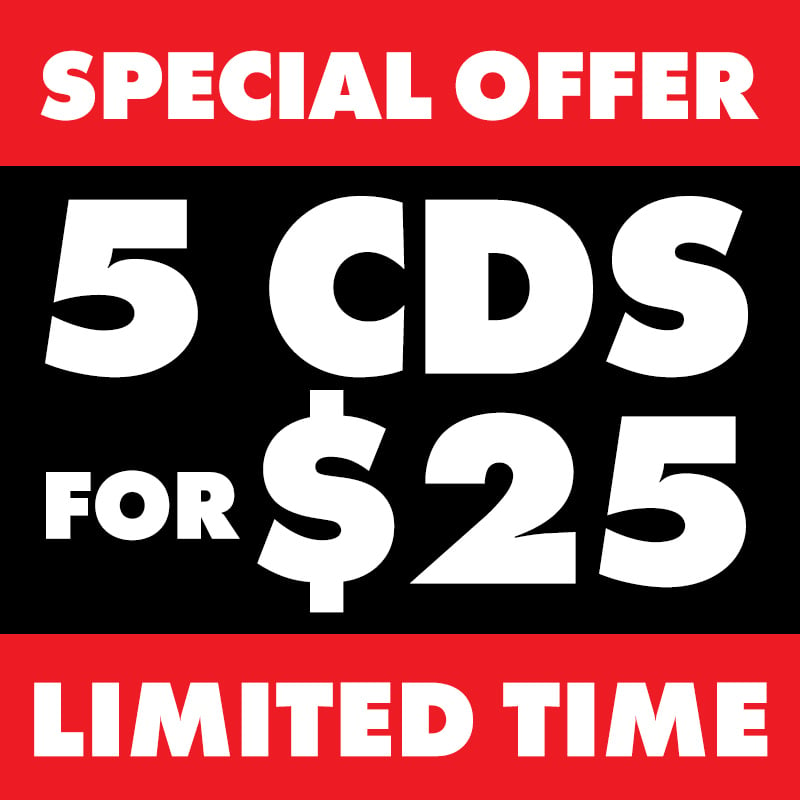 SPECIAL OFFER
We are running limited time sale. 5 single CDs for ONLY $25!
THE RULES:
- Add 5 items from this sale listing below (👇) to your cart. Not 3, not 6, you must have at least and no more than 5 sale items in your cart. If you have more or less than 5 sale items in your order it will be refunded immediately.
- There is no coupon code.
- You may buy multiple copies of the same title(s) to get to 5 items if you so choose.
- The 5 item limit allows the store's standard flat rate shipping to be applied. No additional fees required.
- You may add additional non sale items to your order.
SPECIAL OFFER:
If you already have five (5) regular priced items in your cart, you can add any of these sale items to your purchase even if below the above posted minimum. The regular priced items cannot be from any of our sale sections.
PICK 5 CDs
BEWITCHER - Bewitcher
ELECTRIC AGE - Electric Age
ERADIKATOR - Dystopia
ERADIKATOR - Edge Of Humanity
EVERTHRONE - Evil Tongues
EVERTHRONE - The Dawning
EXCRUCIATOR - Fighting For Evil
FINAL SIGN - Hold High The Flame
GROSS REALITY - Escaping Gravity
JUDICATOR - At The Expense Of Humanity
LEATHER - II
LINE OF FIRE - Line Of Fire
LINE OF FIRE - Momentum
LOVELL'S BLADE - Stone Cold Steel
LUNAR - Eidolon
LUNAR - Theogony
MIASMAL - Tides Of Omniscience
MINDWORK - Eterea
MINDWORK - Into The Swirl (Deluxe Edition)
OLD WOLF - Faustian Mass
PROJECT: ROENWOLFE - Neverwhere Dreamscape
SUBSTRATUM - Permission To Rock
SUBSTRATUM - Stratosphere
SWIFT - The Worst Of All Things Possible
SYNAPTIK - Justify and Reason (2CD U.S. Edition) $6.00
WITCHING ALTAR - Ride With The Devil
WÜLFHOOK - The Impaler
ZEPHANIAH - Reforged
MASTERS OF METAL - Volume 1
MASTERS OF METAL - Volume 2
MASTERS OF METAL - Volume 3
MASTERS OF METAL - Volume 4
MASTERS OF METAL - Volume 5
USE DROP DOWN LIST BELOW (👇) TO ORDER