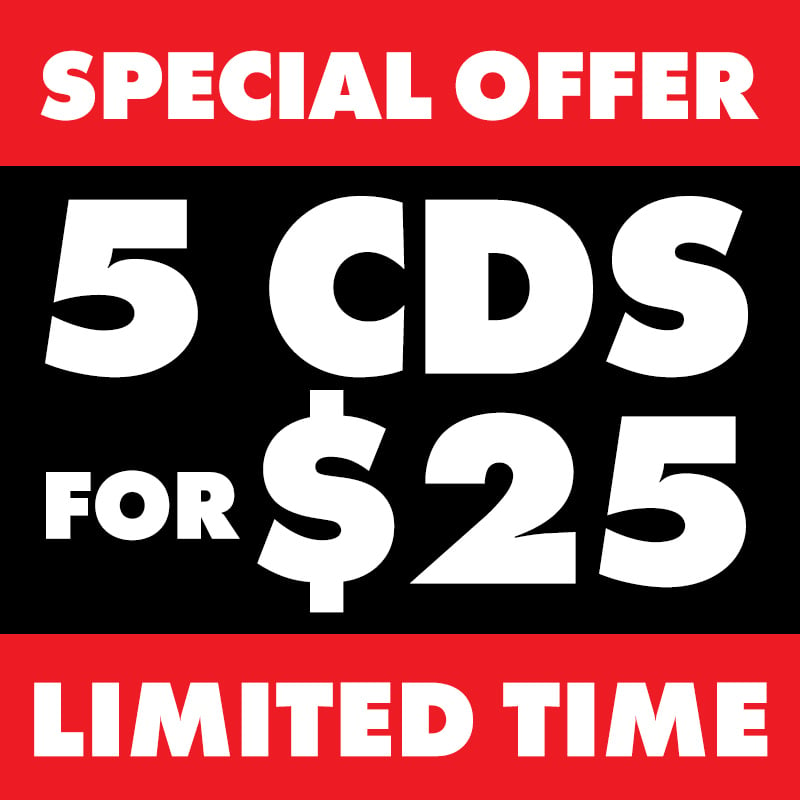 SPECIAL OFFER
We are running limited time sale. 5 single CDs for ONLY $25!
THE RULES:
- Add 5 items from this sale listing to your cart. Not 3, not 6, you must have at least and no more than 5 sale items in your cart. If you have more or less than 5 sale items in your order it will be refunded immediately.
- There is no coupon code.
- You may buy multiple copies of the same title(s) to get to 5 items if you so choose.
- The 5 item limit allows the store's standard flat rate shipping to be applied. No additional fees required.
- You may add additional non sale items to your order.
PICK 5 CDs
BEWITCHER - Bewitcher
ELECTRIC AGE - Electric Age
ERADIKATOR - Dystopia
ERADIKATOR - Edge Of Humanity
EVERTHRONE - Evil Tongues
EVERTHRONE - The Dawning
EXCRUCIATOR - Fighting For Evil
FINAL SIGN - Hold High The Flame
JUDICATOR - At The Expense Of Humanity
LINE OF FIRE - Line Of Fire
LINE OF FIRE - Momentum
LOVELL'S BLADE - Stone Cold Steel
MIASMAL - Tides Of Omniscience
MINDWORK - Eterea
MINDWORK - Into The Swirl (Deluxe Edition)
OLD WOLF - Faustian Mass
PROJECT: ROENWOLFE - Neverwhere Dreamscape
SUBSTRATUM - Permission To Rock
SUBSTRATUM - Stratosphere
SYNAPTIK - Justify and Reason (2CD U.S. Edition) $6.00
WITCHING ALTAR - Ride With The Devil
WÜLFHOOK - The Impaler
ZEPHANIAH - Reforged
MASTERS OF METAL - Volume 1
MASTERS OF METAL - Volume 2
MASTERS OF METAL - Volume 3
MASTERS OF METAL - Volume 4
MASTERS OF METAL - Volume 5