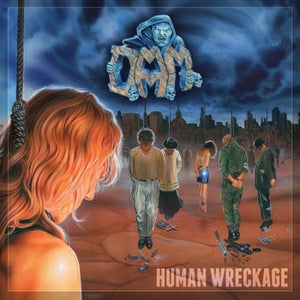 $

12.00
DIVE029
CD
OVERVIEW:
Historically speaking England could be considered the birthplace of heavy metal with the likes of Black Sabbath forging a new path for heavy music. But during the 1980's the thrash metal movement stronghold was America and UK bands like D.A.M. (alongside Xentrix, Deathwish and Onslaught) fought tooth and nail to make their impact heard from across the Atlantic. Knowingly an uphill battle, D.A.M. managed to release two impressive albums (1989's Human Wreckage and 1991's Inside Out) during their initial years. Two albums, despite being tracked in Germany with legendary producer Harris Johns, are distinctively British in their use of simplistic and crunching riffs rather than relying solely on technical aptitude. The strength of big chords and rousing choruses were employed by D.A.M. to great success.
Human Wreckage and Inside Out remain popular now 20 years later, despite being out of print for two decades, due to the band's original desire to cross boundaries and stave off being labeled haphazardly as simply another "thrash band," but instead be remembered as a classic British heavy metal band. For the fans, by the fans.
FOR FANS OF:
METALLICA, DEATHWISH, ANTHRAX and DIAMOND HEAD
TRACK LIST:
01 M.A.D.
02 Death Warmed Up
03 Killing Time
04 Left To Rot
05 Prophets Of Doom
06 Terror Squad
07 Total Destruction
08 Infernal Torment
09 Vendetta
10 Human Wreckage
11 Aliens
12 F.O.D.
ENHANCED CD
- "Human Wreckage" Music Video
- "Total Destruction," "Infernal Torment," "Vendetta" and "Human Wreckage" Live at Hammersmith Odeon 1989